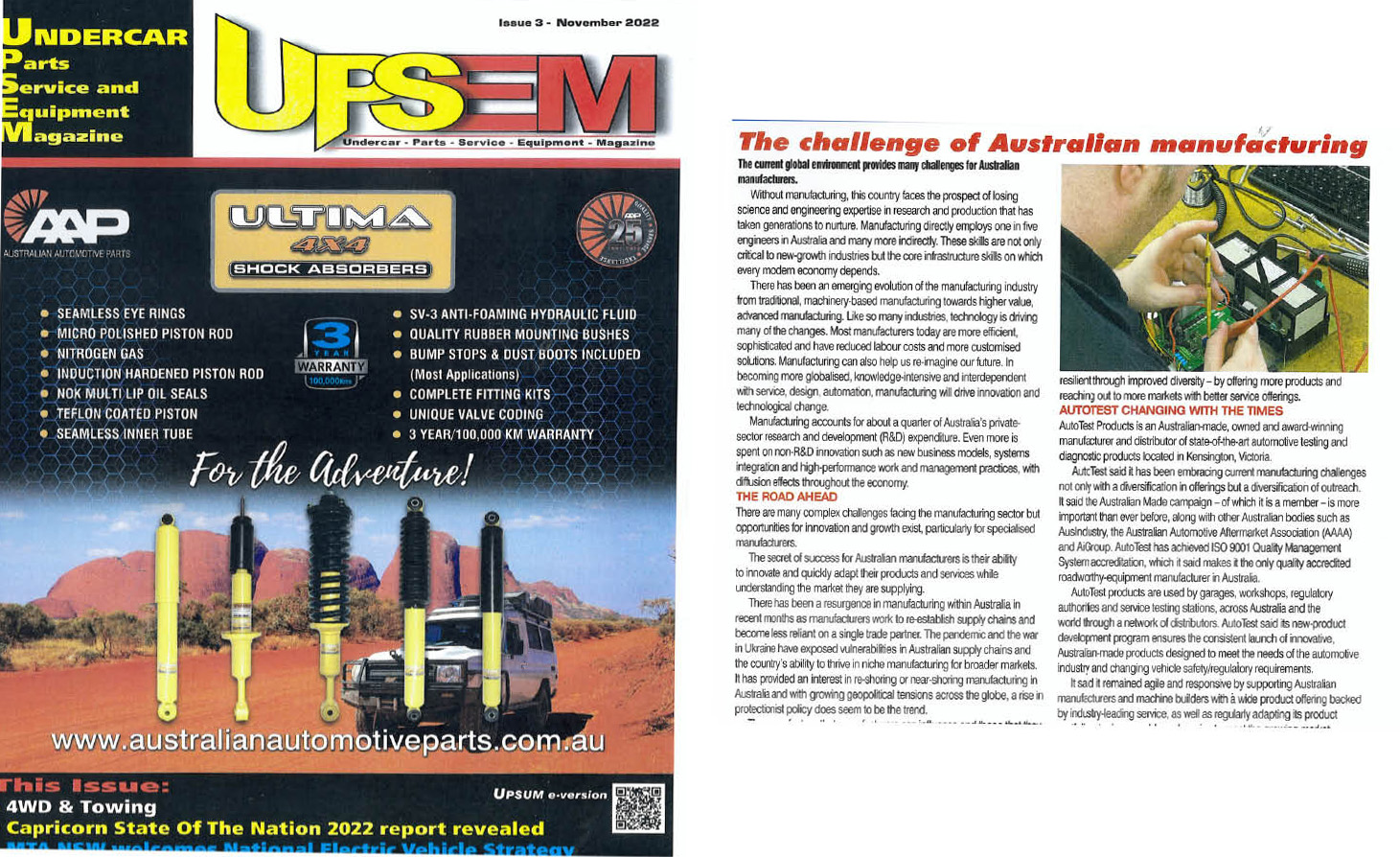 As an Australian manufacture, the current environment provides many challenges. Without manufacturing, we face the prospect of losing science and engineering expertise in research and production that has taken generations to nurture. Manufacturing directly employs one in five engineers in Australia, and many more indirectly. These skills are not only critical to new growth industries but are the core infrastructure skills on which every modern economy depends.
There is an emerging evolution of the manufacturing industry from traditional, machinery-based manufacturing towards higher-value, advanced manufacturing. Like so many industries, technology is driving many of the changes. Most manufacturers today are more efficient and sophisticated, with reduced labour costs and more customised solutions.
AutoTest Products has embraced these challenges with enthusiasm, things that have become increasingly important are not only diversification in offerings but diversification in outreach. The Australian Made campaign (of which AutoTest is a member) is more important than ever before, along with other Australian bodies such as the AusIndustry, AAAA, and Ai Group.
Manufacturing can help us to re-imagine our future. In becoming more globalised, knowledge-intensive, and interdependent with service design, automation, manufacturing will drive innovation and technological change.
Manufacturing accounts for about a quarter of Australia's private sector R&D expenditure. Even more is spent on non-R&D innovation such as new business models, systems integration, and high-performance work and management practices, with diffusion effects throughout the economy.
There are many complex challenges facing the manufacturing sector, but opportunities for innovation and growth exist, particularly for specialised manufacturers. The secret of success for Australian manufacturers is their ability to innovate and quickly adapt their products and services while understanding the market they are supplying.
There had been a resurgence in manufacturing within Australia in recent months as manufacturers work to re-establish supply chains, become less reliant on a single trade partner. The pandemic and the war in Ukraine have exposed vulnerabilities in our supply chains and our ability to thrive in niche manufacturing for broader markets. It has provided an interest in re-shoring or near-shoring manufacturing in Australia, and with growing geopolitical tensions across the globe, a rise in protectionist policy does seem to be the trend.
There are factors those manufacturers can influence and those that they cannot. While we cannot influence the dollar value and the distance to other markets, we can influence the superiority of our product offerings and the flexibility of manufacturers to react to market shifts. We can also become more resilient through improved diversity: by offering more products, reaching out to more markets with better service offerings.
AutoTest Products Pty Ltd is an Australian Made and Owned award-winning manufacturer and distributor of state-of-the-art automotive testing and diagnostic products located in the Kensington, Victoria. Having achieved ISO 9001 Quality Management System accreditation, AutoTest is the only quality accredited roadworthy equipment manufacture in Australia.
AutoTest products are used by garages, workshops, regulatory authorities, and service testing stations, across Australia and the world through a network of distributors.
AutoTest's new product development program ensures the consistent launch of innovative, Australian Made products designed to meet the needs of the automotive industry and changing vehicle safety regulatory requirements.
AutoTest remains agile and responsive by supporting Australian manufacturers and machine builders with a wide product offering backed by industry-leading service. We regularly adapt our product portfolio, stock, assembly, and service to meet the growing market demands.