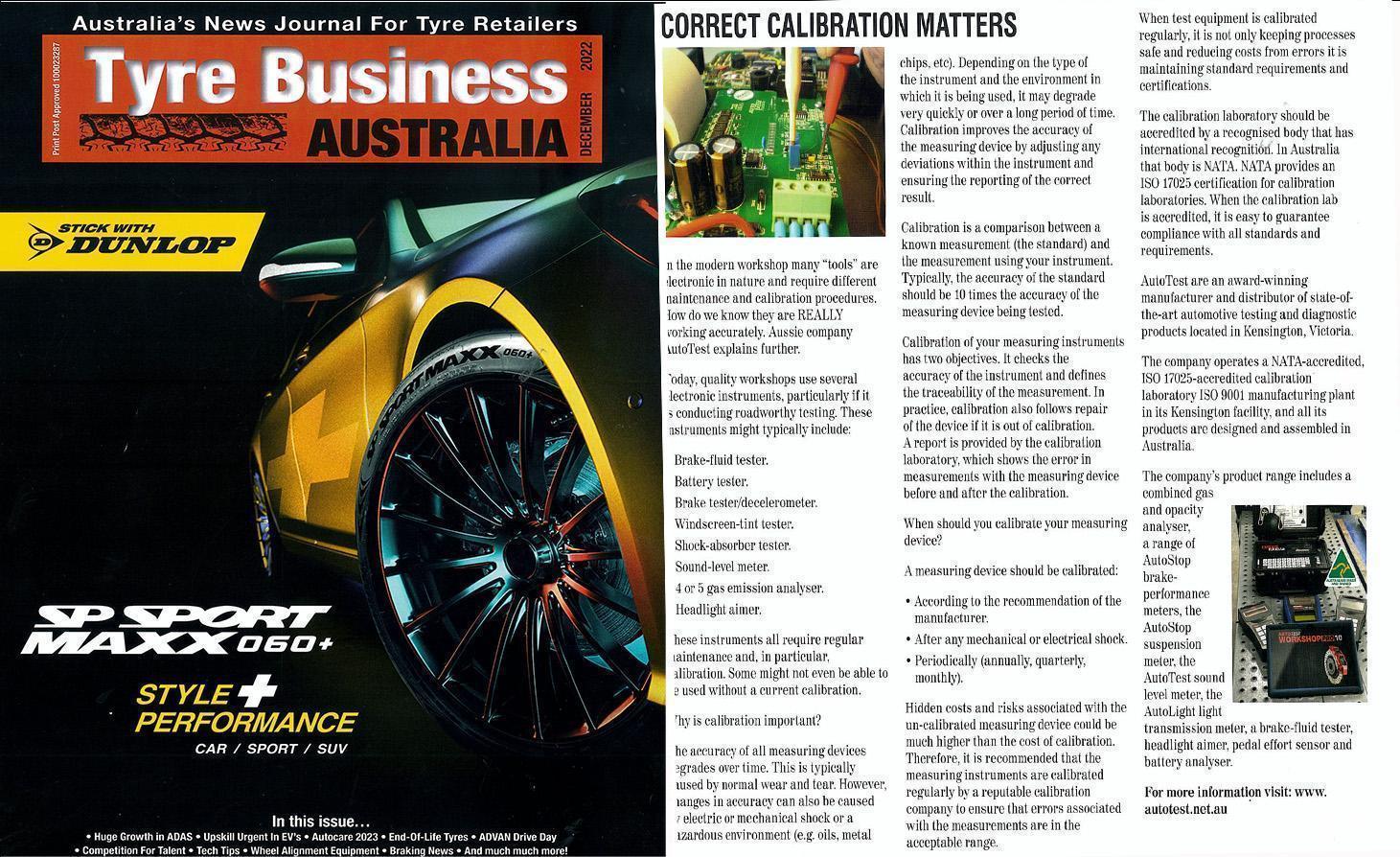 CORRECT CALIBRATION MATTERS
 In the modern workshop many "Tools" are electronic in nature and require different maintenance and calibration procedures.
How do we know they are REALLY working accurately?
Today, quality workshops use several electronic instruments, particularly if it is conducting roadworthy testing. These instruments might typically include:
Brake-fluid tester.
Battery tester.
Brake tester/decelerometer.
Windscreen-tint tester.
Shock-absorber tester.
Sound-level meter.
4 or 5 gas emission analyser.
Headlight aimer.
These instruments all require regular maintenance and, in particular, calibration. Some might not even be able to be used without a current calibration.
Why is calibration important?
 The accuracy of all measuring devices degrades over time. This is typically caused by normal wear and tear. However, changes in accuracy can also be caused by electric or mechanical shock or a hazardous environment (e.g., oils, metal chips, etc). Depending on the type of the instrument and the environment in which it is being used, it may degrade very quickly or over a long period of time. Calibration improves the accuracy of the measuring device by adjusting any deviations within the instrument and ensuring the reporting of the correct result.
Calibration is a comparison between a known measurement (the standard) and the measurement using your instrument. Typically, the accuracy of the standard should be 10 times the accuracy of the measuring device being tested.
Calibration of your measuring instruments has two objectives. It checks the accuracy of the instrument and defines the traceability of the measurement. In practice, calibration also follows repair of the device if it is out of calibration. A report is provided by the calibration laboratory, which shows the error in measurements with the measuring device before and after the calibration.
When should you calibrate your measuring device?
A measuring device should be calibrated:
According to the recommendation of the manufacturer.
After any mechanical or electrical shock.
Periodically (annually, quarterly, monthly).
Hidden costs and risks associated with the un-calibrated measuring device could be much higher than the cost of calibration. Therefore, it is recommended that the measuring instruments are calibrated regularly by a reputable calibration company to ensure that errors associated with the measurements are in the acceptable range.
Calibration maintains standards and certifications
When test equipment is calibrated regularly, it is not only keeping processes safe and reducing costs from errors it is maintaining standard requirements and certifications.
The calibration laboratory should be accredited by a recognised body that has international recognition. In Australia that body is NATA. NATA provides an ISO 17025 certification for calibration laboratories. When the calibration lab is accredited, it is easy to guarantee compliance with all standards and requirements.
Poor-quality calibration services can have a severe impact on your company and its reputation. For this reason, it is extremely important to be aware of what a calibration exactly should provide.
You can trust AutoTest
 AutoTest Products is an Australian Made and Owned, award-winning manufacturer and distributor of state-of-the-art automotive testing and diagnostic products located in Kensington, Victoria.
The company operates a NATA-accredited, ISO 17025-accredited calibration laboratory ISO 9001 manufacturing plant in its Kensington facility, and all its products are designed and assembled in Australia.
AutoTest products are designed to deliver reliable testing and built from durable quality components. AutoTest's product range includes a combined gas and opacity analyser, a range of AutoStop brake-performance meters, the AutoStop suspension meter, the AutoTest sound level meter, the AutoLight light transmission meter, a brake-fluid tester, headlight aimer, pedal effort sensor and battery analyser.
AutoTest products are used by garages, workshops, regulatory authorities, and service-testing stations. AutoTest supplies directly and through a network of international distributors in Australia, Asia, the Pacific, Europe, Africa, and the US.
AutoTest's new product development program ensures the consistent launch of innovative, new products designed to meet the needs of the automotive industry and changing vehicle safety regulatory requirements, both at state and national level locally and overseas.