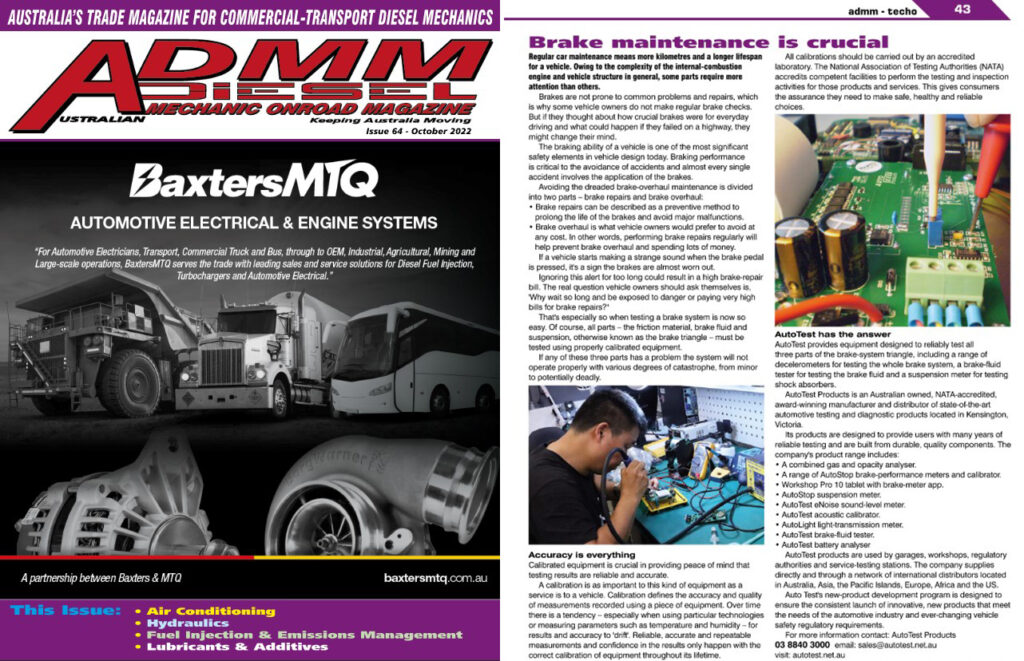 Regular car maintenance means more miles and a longer lifespan for a vehicle. Owing to the complexity of the internal combustion engine and vehicle structure in general, however, some parts require more attention than others.
Brakes, for example, are not prone to common problems and repairs, which is why some vehicle owners do not make regular brake checks. But if they thought about how crucial brakes were for everyday driving and what could happen if they failed on a highway, they would probably change their mind.
The braking ability of a vehicle is one of the most significant safety elements in vehicle design today. Braking performance is critical in the avoidance of accidents and almost every single accident involves the application of the brakes.
Avoiding the dreaded overhaul Brake maintenance is divided into two parts – brake repairs and brake overhaul:
Brake repairs can be described as a preventive method to prolong the life of the brakes and avoid major malfunctions.
Brake overhaul is what vehicle owners would prefer to avoid at any cost. In other words, performing brake repairs regularly will help prevent brake overhaul and spending lots of money.
If a vehicle starts making a strange sound when the brake pedal is pressed, it is a sign the brakes are almost worn out.
Ignoring this alert for too long will likely result in a high brake repair bill. The real question vehicle owners should ask themselves is, "why wait so long and be exposed to danger when driving or paying very high bills for auto brake repairs?"
That's especially so when testing a brake system is now so easy. Of course, all parts – the friction material, brake fluid and suspension, otherwise known as the brake triangle – must be tested using properly calibrated equipment. If any of these three parts has a problem the system will not operate properly with various degrees of catastrophe, from minor to death.
Accuracy is Everything
The importance of calibrated equipment is crucial in providing the peace of mind that the results are reliable and accurate. A calibration is as important to this kind of equipment as a service is to a vehicle. Calibration defines the accuracy and quality of measurements recorded using a piece of equipment. Over time there is a tendency – especially when using particular technologies or measuring parameters such as temperature and humidity – for results and accuracy to 'drift'. Reliable, accurate and repeatable measurements and confidence in the results only happen with the correct calibration of equipment throughout its lifetime.
All calibrations should be carried out by a properly accredited laboratory. The National Association of Testing Authorities (NATA) accredits competent facilities to perform the testing and inspection activities for those products and services. This gives consumers the assurance they need to make safe, healthy and reliable choices.
AutoTest has the Answer
AutoTest provides equipment to reliably test all three parts of the brake-system triangle, including a range of decelerometers for testing the whole brake system, a brake-fluid tester for testing the brake fluid and a suspension meter for testing shock absorbers.
AutoTest Products is an Australian Made & Owned, NATA Accredited, award-winning manufacturer and distributor of state-of-the-art automotive testing and diagnostic products located in the Kensington, Victoria. Its products are designed to provide users with many years of reliable testing and are built from durable quality components. Auto Test's product range includes a combined gas and opacity analyser, a range of AutoStop brake-performance meters and calibrator, Workshop Pro 10 tablet with brake meter app, the AutoStop suspension meter, the AutoTest eNoise sound-level meter, the AutoTest acoustic calibrator, the AutoLight light transmission meter, a brake-fluid tester and battery analyser.
AutoTest products are used by garages, workshops, regulatory authorities and service testing stations. AutoTest supplies directly and through a network of international distributors located in Australia, Asia, the Pacific Islands, Europe, Africa and the US.
Auto Test's new-product development program ensures the consistent launch of innovative, new products designed to meet the needs of the automotive industry and ever-changing vehicle safety regulatory requirements.