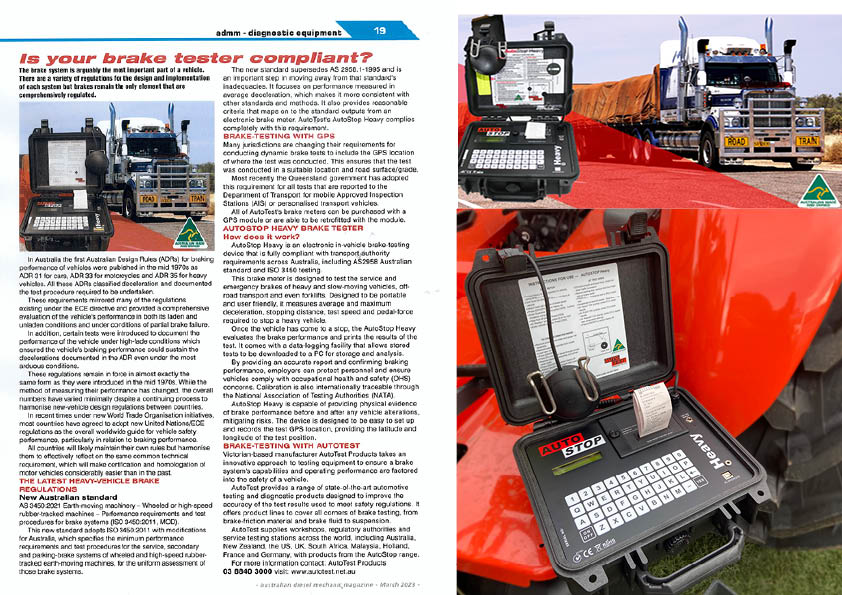 THE HISTORY OF BRAKE SAFETY
The brake system is arguably the most important part of a vehicle. There are a variety of regulations for the design and implementation of each system, but brakes remain the only element that are comprehensively regulated.
In Australia the first Australian Design Rules (ADRs) for braking performance of vehicles were published in the mid 1970s as ADR 31 for cars, ADR 33 for motorcycles and ADR 35 for heavy vehicles. All these ADRs classified deceleration and documented the test procedure required to be undertaken.
These requirements mirrored many of the regulations existing under the ECE directive and provided a comprehensive evaluation of the vehicle's performance in both its laden and unladen conditions and under conditions of partial brake failure. In addition, certain tests were introduced to document the performance of the vehicle under high-fade conditions, which ensured that the vehicle's braking performance could sustain the decelerations documented in the ADR even under the most arduous conditions.
These regulations remain in force in almost exactly the same form as they were introduced in the mid 1970s. While the method of measuring their performance has changed, the overall numbers have varied minimally despite a continuing process to harmonise the new-vehicle design regulations between countries.
In recent times under new World Trade Organisation initiatives, most countries have agreed to adopt the new United Nations/ECE regulations as the overall worldwide guide for vehicle safety performance, particularly in relation to braking performance. All countries will likely maintain their own rules but harmonise them to effectively reflect on the same common technical requirement, which will make certification and homologation of motor vehicles considerably easier than in the past.
The latest heavy-vehicle brake regulations:
New Australian Standard
AS 3450:2021 Earth-moving machinery – Wheeled or high-speed rubber-tracked machines – Performance requirements and test procedures for brake systems (ISO 3450:2011, MOD).
The new standard adopts ISO 3450:2011 with modifications for Australia, which specifies the minimum performance requirements and test procedures for the service, secondary and parking-brake systems of wheeled and high-speed rubber-tracked earth-moving machines, for the uniform assessment of those brake systems.
The new standard supersedes AS 2958.1-1995 and is an important step in moving away from the inadequacies of AS2958. It focuses on performance measured in average deceleration, which makes it more consistent with other standards and methods. It also provides reasonable criteria that maps on to the standard outputs from an electronic brake meter. AutoTest's AutoStop Heavy complies completely with this requirement.
Brake testing with GPS
Many jurisdictions are changing their requirements for conducting dynamic brake tests to include the GPS location of where the test was conducted. This ensures that the test was conducted in a suitable location and road surface/grade. Most recently the Queensland government has adopted this requirement for all tests that are reported to the Department of Transport for mobile Approved Inspection Station (AIS) or personalised transport vehicles. All of AutoTest's brake meters can be purchased with a GPS module or are able to be retrofitted with the module.
AUTOSTOP HEAVY BRAKE METER
How does it work?
AutoStop Heavy is an electronic in-vehicle brake-testing device that is fully compliant with transport-authority requirements across Australia, including AS2958 Australian Standard and ISO 3450 testing.
This brake meter is designed to test the service and emergency brakes of heavy and slow-moving vehicles, off-road transport and even forklifts. Designed to be portable and user friendly, AutoStop Heavy brake-performance tester measures average and maximum deceleration, stopping distance, test speed and pedal-force required to stop a heavy vehicle.
Once the vehicle has come to a stop, the brake tester evaluates the brake performance and prints the results of the test. AutoStop Heavy comes with a data-logging facility that allows stored tests to be downloaded to a PC for storage and analysis.
By providing an accurate report and confirming braking performance, employers can protect personnel and ensure that vehicles comply with occupational health and safety concerns. Calibration is also internationally traceable through the National Association of Testing Authorities (NATA).
AutoStop Heavy is capable of providing physical evidence of brake performance before and after any vehicle alterations, mitigating risks. The device is designed to be easy to set up and records the test GPS location, providing the latitude and longitude of the test position.
Brake testing with AutoTest
Victorian-based manufacturer AutoTest Products takes an innovative approach to testing equipment to ensure a brake's capabilities and operating performance are factored into the safety of a vehicle.
AutoTest provides a range of state-of-the-art automotive testing and diagnostic products designed to improve the accuracy of the test results used to meet safety regulations. It offers product lines to cover all corners of brake testing, from brake-friction material and brake fluid to suspension.
AutoTest supplies workshops, regulatory authorities and service testing stations across the world, including Australia, New Zealand, the US, UK, South Africa, Malaysia, Holland, France and Germany, with products from the AutoStop range.