Braking performance is a critical factor when considering vehicle safety.  The potential damage, of a couple of tons of steel and plastic hurtling out of control, can be detrimental to property and people.
Traditionally, the braking capabilities of a vehicle are tested using a physical and on-road check to verify that safety standards have been complied to. However, what about the brake's operating performance? Are the results of the vehicle's braking capabilities still accurate when a driver has to suddenly slam on the brakes?
A Victorian based manufacturer, AutoTest Products, is taking an innovative approach to testing equipment to ensure a brake's capabilities and operating performance are factored into the safety of a vehicle. 
AutoTest provides a range of state-of-the-art, automotive testing and diagnostic products, designed to improve the accuracy of the test results used to meet safety regulations. AutoTest products will also help generate business for workshops with or without Licensed Vehicle Testers (LVT) status.
AutoTest offers two main product lines. The 'AutoStop', which is a range of products designed to test a vehicle's brake performance, and the 'AutoLight. The AutoLight enables accurate measurements to be taken of the light transmission through vehicle windows. AutoTest also offer a range of workshop products, relating to suspension, emissions, headlights, Noise, OBD, and brake fluid. 
AutoTest supplies workshops, regulatory authorities and service testing stations across the world, including Australia, New Zealand, USA, UK, South Africa, Malaysia, Holland, France and Germany, with products from the AutoStop range. AutoStop Maxi brake meter is used by over 3000 workshops in New South Wales alone!
AutoTest Workshop Pro 10 Tests Brake Performance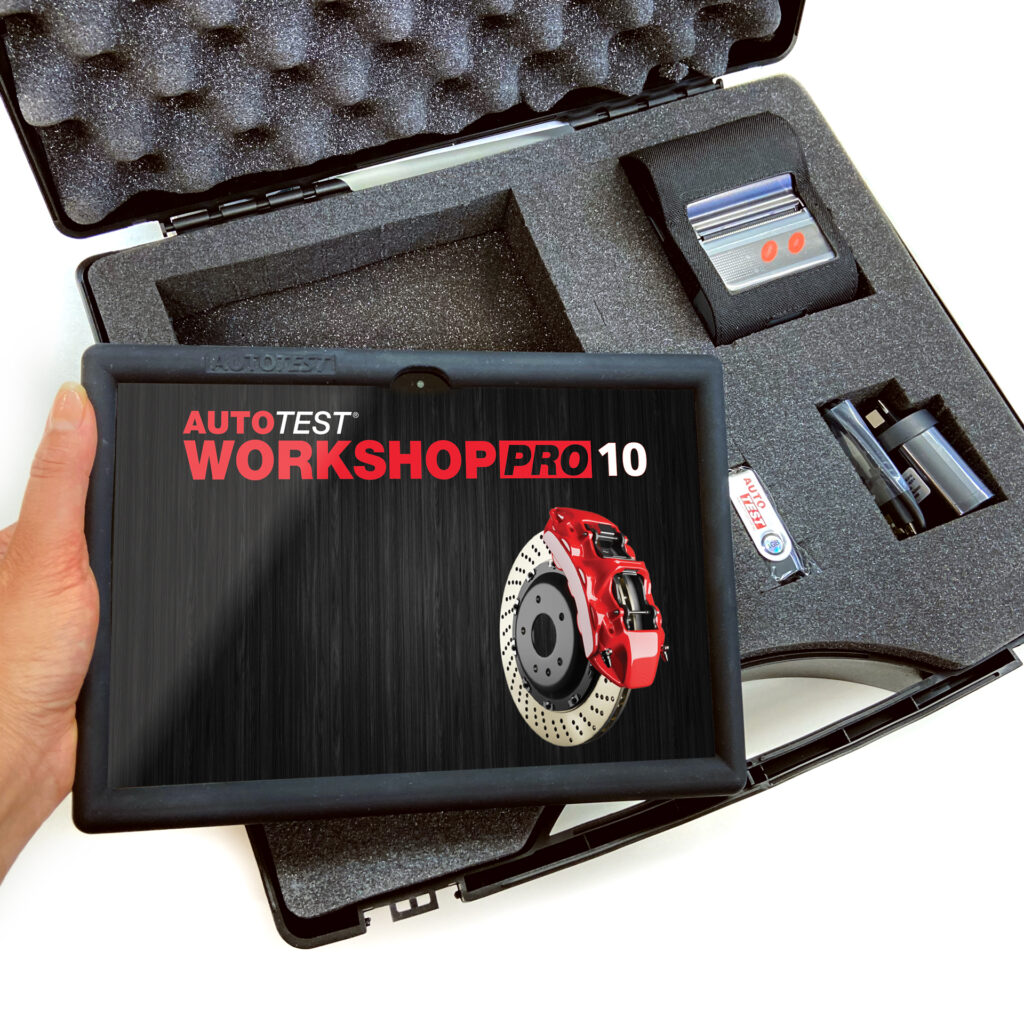 AutoTest Workshop Pro 10 is an easy to use electronic in-vehicle testing device, used to measure the deceleration required to stop a vehicle. The instrument is easy to set up and integrates several pieces of farming equipment.
At the end of each test, the AutoTest Workshop Pro 10 evaluates a vehicle's brake performance and print out or record the results of the test for future analyses. The comprehensive report includes information on vehicle speed, Deceleration, stopping distance and GPS location. The AutoTest Workshop Pro 10 can print copies out for both you and your customer, if required.
An advantage of the AutoTest Workshop Pro 10 for Victoria and Queensland based workshops and garages is that it reads all three VicRoads and QLD DOT specified figures, including GPS locations, average peak decelerations, stopping distances and test speeds.
AutoTest Workshop Pro 10 is battery-powered and comes in a sturdy case, ideal for all industries from rugged farming to workshop environments.
Published in Australian Diesel Mechanic Magazine November 2020 – Issue 52